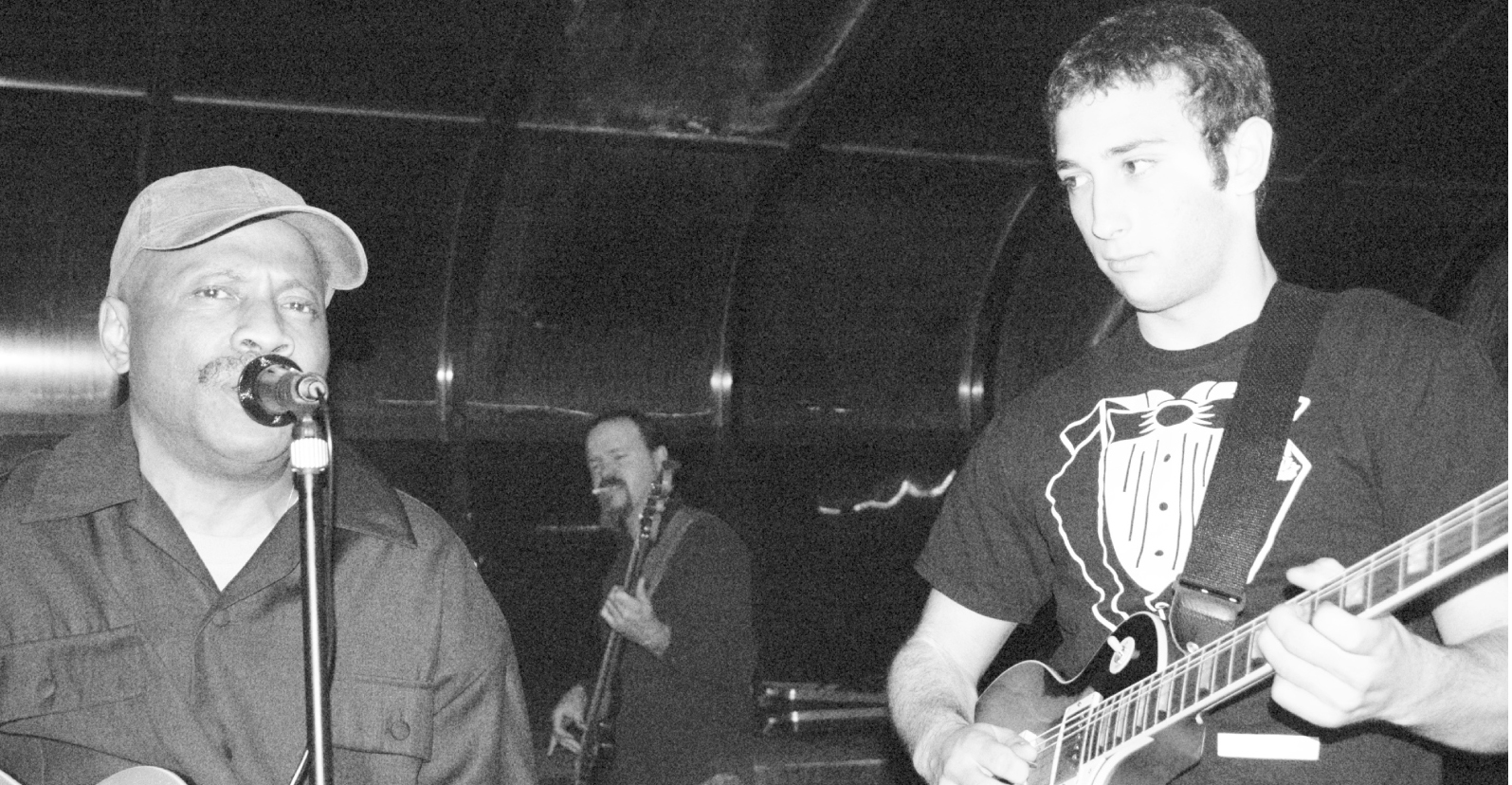 It was love at first sight.
Sophomore Adam Levin held the Gibson as if it were made of solid gold. He examined the fret board with his fingers. He toyed with the tuning machines. His eyes bored through the lacquered body. It was meant to be.
The new guitar was a status symbol – his eighth guitar in seven years. He had finally settled on it after his fifth trip to Guitar Center. It was the guitar suited perfectly to his rapidly growing talent. He had worked hard to deserve this dark burst Les Paul and he was ready to play to the world.
He started on the small stage of Aspen streets and then started to play in downtown KC. By that time he was in league with 40-year-old blues artists, playing with them in animated, cursing blues bars.
He's played through cigarette lights and thick, tasteable smoke. He now stands young among his band mates; the ones with combed beards and lurking gray hair. But Levin is far from the weakest member. His licks are faster than the rest and he's able to stand straight instead of slouching uncomfortably, unlike when he started playing with the group three years ago.
He's grown from the nine-year old with a shallow starter acoustic.
"I got into guitar because I didn't like piano," Levin said. "I knew I wanted to play an instrument so I played the instrument nobody else wanted to play."
He started taking lessons with Jimmy Dykes, a guitar teacher at the Toon Shop. Dykes started him with a small book of basic chords. Levin played and played his first G chord. Next C. Soon he could play most of the open string-chords.
Then came B minor. The mother of all bar chords.
"It was a defining moment for me," Levin said. " 'Am I gonna quit? Or am I gonna see how far this goes?' So I worked hard and played that B minor chord. I toughed it out and lo' and behold, here I am today."
After that, it was smooth playing. During the family vacation to Colorado, 9-year-old Levin sat outside a lonely shopping center with his Melody guitar and strummed along to the rhythm of "Rocky Raccoon" with his guitar case open on the ground. The first day's take? $6.
"I wasn't doing anything," Levin said. "I was just a cute little kid playing guitar. I came home and I told my mom 'I made six bucks!' And she was like 'Why don't you try playing in a busier area?' But six bucks was still awesome."
He took his mom's advice and played near Paradise Bakery, a popular Aspen eatery. His parents sat on a bench across from him and listened to hours of "Sweet Home Alabama," (A crowd pleaser, Levin said). He made $70. By the end of the summer his pockets were stuffed with $200. He played there every summer for the next four years.
Levin continued to refine his art in the basement after summer vacations ended. Inside an insolated room where The Clash, the Ramones, and Led Zeppelin looked on, Levin practiced 45 to 90 minutes a day over his Fender Twin amp, a habit that continues today.
"My mom comes down sometimes and tells me to turn it down because she's afraid my ears will go deaf," Levin said. "I guess she's right, but I feel like I have to get a certain sound when I play."
He started playing along with Chuck Berry's Johnny B. Goode, studying the pentatonic scale found through the song. Practicing for hours at the 2 min, 46 second long blues classic, bending the G-string and copying the one-four-five blues progression. Levin memorized the song from beginning to middle to end.
Seeking more blues, Levin found The Allman Brother's Band. After listening to "Live At Fillmore East" CD, Levin had another turning point.
"The first time I listened to the album, the hairs on my neck stood up," Levin said. "My whole body felt electric. It used to be that I would play a bunch of notes because it sounded good. Now it's more a spiritual thing. Blues is more about expressing yourself between which note you pick."
After enough practice, Levin's parents asked the owner of Danny's Big Easy, a downtown Kansas City bar, to let Levin play one night. He was allowed him to sit in with that night's stage band.
"It wasn't really a great time," Levin said. "I was with some guy named JJ and I played only two or three songs. But it was the first time I played."
Levin received more respect as he played more shows at Danny's and the Westsider, a local coffee house with a Thursday open mic. Although he had some street cred' he was about to receive a big career boost.
His sister began to date Walker Tippit, a lead guitarist in a band lead by D.C. Bellamy, a player with 35 years of professional experience and a veteran of Chicago blues.
Tippit introduced him to Bellamy, a "good un' " according to Living Blues Magazine, and they invited Levin to play with them. The first show went well.
"When Adam first started [playing with the band], he was alright, just a little shy," Bellamy, who released an album under the Rooster Blues label, said. "But now he's rockin' n' rollin'. When he gets up there he knows what he's doing. And he's confident."
But Bellamy tested Levin's stamina on round two.
A trombone section was brought into the bar as Levin stood and played for nearly two straight hours. The crowd cheered him on in a breakdown: "The roof! The roof!" they chanted. "The roof is on fire! We don't need no water! Let the motherf—— burn!"
After that, Levin was playing regularly with Tippit and Bellamy and his dark bust Les Paul. Bellamy will invite him to come to the stage and join the band for as many songs as he wants. Levin plays to the max, savoring every bend and twiddling-diddling on the high frets. But he stays humble, bowing out for the keyboardist and the other guitarist to command their own solos. The band is seamless with their respective instruments, especially for a group aging from 16 to nearly 60. Levin doesn't even hiccup when Tippit tips him off to his third solo.
"I love to see a young guy continue on and nothing to cause him to stray from his goal," Bellamy said. "And his goal is to play that guitar. I won't be long until Adam is one of the up and coming guitarists coming out of Kansas City."