Originally published in The Harbinger, Oct. 2, 2007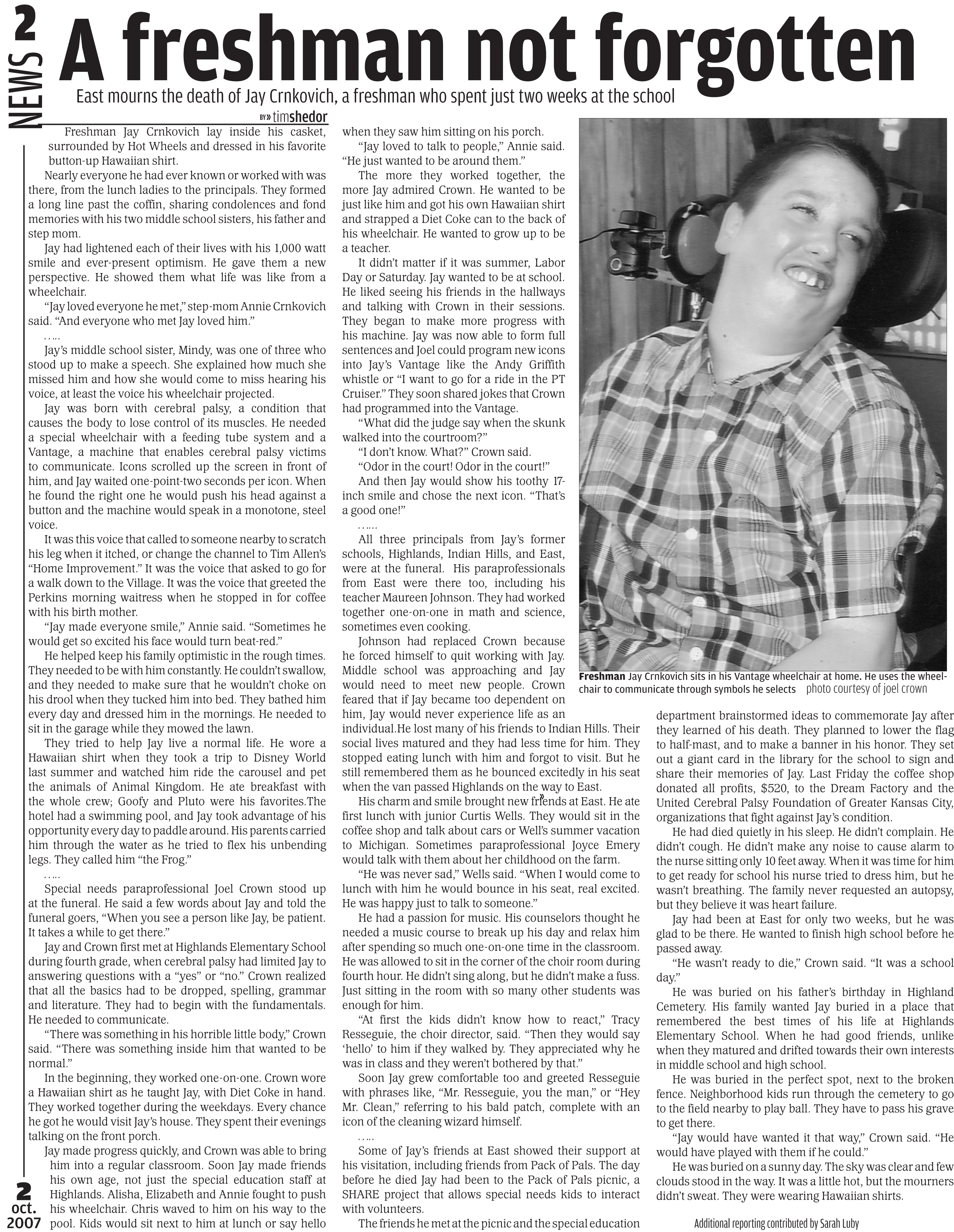 Nearly everyone he had ever known or worked with was there, from the lunch ladies to the principals. They formed a long line past the coffin, sharing condolences and fond memories with his two middle school sisters, his father and step mom.
Jay had lightened each of their lives with his 1,000 watt smile and ever-present optimism. He gave them a new perspective. He showed them what life was like from a wheelchair.
"Jay loved everyone he met," step-mom Annie Crnkovich said. "And everyone who met Jay loved him."
---
Jay's middle school sister, Mindy, was one of three who stood up to make a speech. She explained how much she missed him and how she would come to miss hearing his voice, at least the voice his wheelchair projected.
Jay was born with cerebral palsy, a condition that causes the body to lose control of its muscles. He needed a special wheelchair with a feeding tube system and a Vantage, a machine that enables cerebral palsy victims to communicate. Icons scrolled up the screen in front of him, and Jay waited one-point-two seconds per icon. When he found the right one he would push his head against a button and the machine would speak in a monotone, steel voice.
It was this voice that called to someone nearby to scratch his leg when it itched, or change the channel to Tim Allen's "Home Improvement." It was the voice that asked to go for a walk down to the Village. It was the voice that greeted the Perkins morning waitress when he stopped in for coffee with his birth mother.
"Jay made everyone smile," Annie said. "Sometimes he would get so excited his face would turn beat-red."
He helped keep his family optimistic in the rough times. They needed to be with him constantly. He couldn't swallow, and they needed to make sure that he wouldn't choke on his drool when they tucked him into bed. They bathed him every day and dressed him in the mornings. He needed to sit in the garage while they mowed the lawn.
They tried to help Jay live a normal life. He wore a Hawaiian shirt when they took a trip to Disney World last summer and watched him ride the carousel and pet the animals of Animal Kingdom. He ate breakfast with the whole crew; Goofy and Pluto were his favorites.The hotel had a swimming pool, and Jay took advantage of his opportunity every day to paddle around. His parents carried him through the water as he tried to flex his unbending legs. They called him "the Frog."
---
Special needs paraprofessional Joel Crown stood up at the funeral. He said a few words about Jay and told the funeral goers, "When you see a person like Jay, be patient. It takes a while to get there."
Jay and Crown first met at Highlands Elementary School during fourth grade, when cerebral palsy had limited Jay to answering questions with a "yes" or "no." Crown realized that all the basics had to be dropped, spelling, grammar and literature. They had to begin with the fundamentals. He needed to communicate.
"There was something in his horrible little body," Crown said. "There was something inside him that wanted to be normal."
In the beginning, they worked one-on-one. Crown wore a Hawaiian shirt as he taught Jay, with Diet Coke in hand. They worked together during the weekdays. Every chance he got he would visit Jay's house. They spent their evenings talking on the front porch.
Jay made progress quickly, and Crown was able to bring him into a regular classroom. Soon Jay made friends his own age, not just the special education staff at Highlands. Alisha, Elizabeth and Annie fought to push his wheelchair. Chris waved to him on his way to the pool. Kids would sit next to him at lunch or say hello when they saw him sitting on his porch.
"Jay loved to talk to people," Annie said. "He just wanted to be around them."
The more they worked together, the more Jay admired Crown. He wanted to be just like him and got his own Hawaiian shirt and strapped a Diet Coke can to the back of his wheelchair. He wanted to grow up to be a teacher.
It didn't matter if it was summer, Labor Day or Saturday. Jay wanted to be at school. He liked seeing his friends in the hallways and talking with Crown in their sessions.They began to make more progress with his machine. Jay was now able to form full sentences and Joel could program new icons into Jay's Vantage like the Andy Griffith whistle or "I want to go for a ride in the PT Cruiser." They soon shared jokes that Crown had programmed into the Vantage.
"What did the judge say when the skunk walked into the courtroom?"
"I don't know. What?" Crown said.
"Odor in the court! Odor in the court!"
And then Jay would show his toothy 17-inch smile and chose the next icon. "That's a good one!"
---
All three principals from Jay's former schools, Highlands, Indian Hills, and East, were at the funeral. His paraprofessionals from East were there too, including his teacher Maureen Johnson. They had worked together one-on-one in math and science, sometimes even cooking.
Johnson had replaced Crown because he forced himself to quit working with Jay. Middle school was approaching and Jay would need to meet new people. Crown feared that if Jay became too dependent on him, Jay would never experience life as an individual.He lost many of his friends to Indian Hills. Their social lives matured and they had less time for him. They stopped eating lunch with him and forgot to visit. But he still remembered them as he bounced excitedly in his seat when the van passed Highlands on the way to East.
His charm and smile brought new friends at East. He ate first lunch with junior Curtis Wells. They would sit in the coffee shop and talk about cars or Well's summer vacation to Michigan. Sometimes paraprofessional Joyce Emery would talk with them about her childhood on the farm.
"He was never sad," Wells said. "When I would come to lunch with him he would bounce in his seat, real excited. He was happy just to talk to someone."
He had a passion for music. His counselors thought he needed a music course to break up his day and relax him after spending so much one-on-one time in the classroom. He was allowed to sit in the corner of the choir room during fourth hour. He didn't sing along, but he didn't make a fuss. Just sitting in the room with so many other students was enough for him.
"At first the kids didn't know how to react," Tracy Resseguie, the choir director, said. "Then they would say 'hello' to him if they walked by. They appreciated why he was in class and they weren't bothered by that."
Soon Jay grew comfortable too and greeted Resseguie with phrases like, "Mr. Resseguie, you the man," or "Hey Mr. Clean," referring to his bald patch, complete with an icon of the cleaning wizard himself.
---
Some of Jay's friends at East showed their support at his visitation, including friends from Pack of Pals. The day before he died Jay had been to the Pack of Pals picnic, a SHARE project that allows special needs kids to interact with volunteers.
The friends he met at the picnic and the special education department brainstormed ideas to commemorate Jay after they learned of his death. They planned to lower the flag to half-mast, and to make a banner in his honor. They set out a giant card in the library for the school to sign and share their memories of Jay. Last Friday the coffee shop donated all profits, $520, to the Dream Factory and the United Cerebral Palsy Foundation of Greater Kansas City, organizations that fight against Jay's condition.
He had died quietly in his sleep. He didn't complain. He didn't cough. He didn't make any noise to cause alarm to the nurse sitting only 10 feet away. When it was time for him to get ready for school his nurse tried to dress him, but he wasn't breathing. The family never requested an autopsy, but they believe it was heart failure.
Jay had been at East for only two weeks, but he was glad to be there. He wanted to finish high school before he passed away.
"He wasn't ready to die," Crown said. "It was a school day."
He was buried on his father's birthday in Highland Cemetery. His family wanted Jay buried in a place that remembered the best times of his life at Highlands Elementary School. When he had good friends, unlike when they matured and drifted towards their own interests in middle school and high school.
He was buried in the perfect spot, next to the broken fence. Neighborhood kids run through the cemetery to go to the field nearby to play ball. They have to pass his grave to get there.
"Jay would have wanted it that way," Crown said. "He would have played with them if he could."
He was buried on a sunny day. The sky was clear and few clouds stood in the way. It was a little hot, but the mourners didn't sweat. They were wearing Hawaiian shirts.